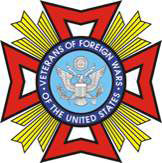 We will be installing post officers for the 2019-20 VFW year at the May Post meeting, reflecting the results of elections held in April.
Our new leadership roster: •
Commander: Rose Gilliland
Sr. Vice Commander: Carl Kurfess
Jr. Vice Commander: Duane Bowman
Quartermaster: Dennis Peterson
Chaplain: Dan Doyle
1st Year Trustee: Jim Murdock
2nd Year Trustee: Kerry Watkins
3rd Year Trustee: Don Stapleton 
Incoming Commander Gilliland reports the following in appointed positions:
Adjutant: Richard Simmons
Service Officer: Don Whedon
Judge Advocate: Jim Traner
Surgeon: Charles Gaul
Guard: John Shelton
Officer of the Day: Jim Collins 
We all are grateful to these our comrades for their willingness to accept a leadership role and the accompanying responsibility. Rose Gilliland, Duane Bowman and Jim Murdock & Jim Traner are stepping into new positions, while the rest of the group are continuing in positions held, in some cases, for a number of years. As the public likes to say these days to us vets: "Thank you for your service".