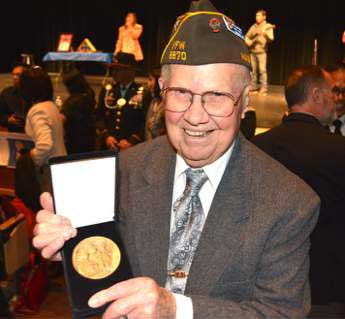 Edmonds resident and World War II veteran Amos Chapman Jr. recently received the Congressional Gold Medal for his participation in the U. S. Navy during war activities in the Philippines. The medal is the highest honor Congress can bestow on an American.
In a letter that accompanied the medal, Washington's U.S. Senator Patty Murray lauded Chapman's contributions, saying "You have demonstrated incredible dedication to our country, and your sacrifices will never be forgotten." He was one of 28 veterans who received the award, 26 of whom are now deceased, at the event held Oct. 19 at the Mt. Tahoma High School Auditorium in Tacoma.
Amos, now 94 years old, is still an active member of Edmonds American Legion Post 66 and Veterans of Foreign Wars (VFW) Post 8870. The award was given to recognize his service along with his fellow Washington State Filipino and American World War II veterans, according to Murray's letter.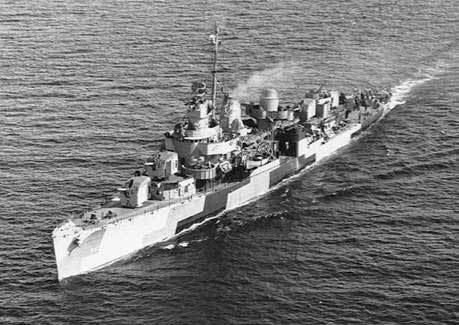 Amos joined the Navy in May 1943, at the age of 17. He was assigned to serve aboard the Fletcher-Class destroyer, USS Killen, in the Pacific as a Fire Controller. His ship was engaged in the Battles for Leyte Gulf during which the ship was under constant attack by artillery, air and Kamikaze attacks. 
When the Japanese Navy decided to contest the landings on Leyte, the Killen's squadron engaged the enemy at Surigao Strait. On the morning of October 25, 1944, the USS Killen launched five torpedoes toward the Japanese battleship Yamashiro. One hit, slowing the Japanese ship to 5 knots, enabled other American destroyers to maneuver for the destruction of the Yamashiro.
Photo of Amos by Don Stapleton, Killen photo Navsource ships photos. Text adapted from MyEdmonds News.com