Six members of Post 8870 were among 23 Korean War veterans honored by Edmonds Community College at their annual Veterans Day celebration November 2. The event filled the college's Black Box Theater to standing room only.
The highlight of the event was the awarding of the Korean Ambassador for Peace medal to the Korean Veterans present. The medals were presented by the Korean consul general in Seattle, Moon Duk-ho. The proclamation accompanying it reads: "The Republic of Korea thanks these veterans for the service [they] performed in restoring and preserving our freedom and democracy."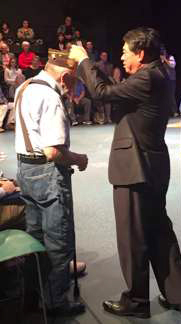 Post 8870 member Jim Adams, Tom Hallums, Gil Loomis, Paul Poppe, Phil Sacks and Dan White were so honored.
The director of the college's Veterans Resource Center, Navy retiree Chris Szarek, said, "Our campus chose to honor Korean War veterans as a way of ensuring that the brave men and women who served there know that their service is appreciated and to remind us of an often forgotten conflict."
Other speakers at the event included state representative Cindy Ryu, who as Shoreline mayor was the first Korean American woman to be mayor of a U.S. city. Lynnwood Mayor Nicola Smith and Edmonds CC President Dr. Jean Hernandez also spoke. Our immediate past commander, Jim Blossey—also a Korean War veteran—was emcee for the program.