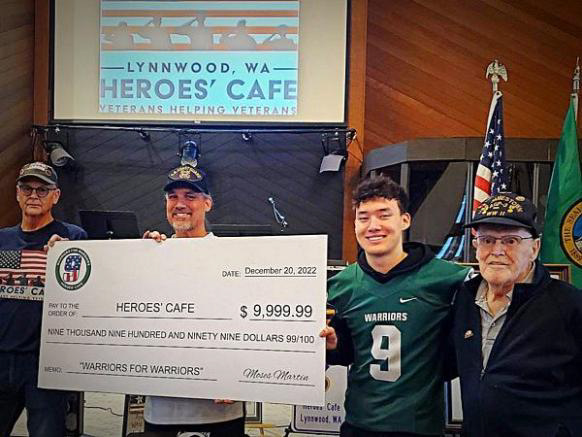 Edmonds-Woodway High School senior and defensive linebacker Moses "Mojo" Martin is combining his respect for war veterans and his passion for football into a creative fundraiser aimed at supporting the Heroes' Cafe. 
The Heroes' Cafe provides a place where veterans can share common experiences and open up and get things off their chests in a safe environment. By doing so, the cafe addresses the sense of isolation many veterans feel and ease their transition from active duty back to society.
"I really love our veterans," explained Martin. "I learned about them growing up, and feel they are underappreciated and underloved for what they do. Sadly, many of our hero veterans are not thriving and are struggling with homelessness, hunger, mental health, suicide risks, and basic living needs. So I contacted Snohomish County to ask how I could help."
That's where he learned about the Heroes' Café, and after a bit of thought and discussion with his dad, came up with a plan to link his performance on the field to raising funds to support this effort.
"Dad and I came up with the idea to allow people to pledge a certain amount per tackle or sack, with every cent going to the Heroes' Café," he explained. "I'm eager to get out there this season and ring up a good string of tackles and quarterback sacks, and this will give me even more motivation. Heck, if just one person pledges a dollar for each and I complete a hundred by season end, that's a hundred bucks for the Heroes' Café." He had a terrific season and ended it by donating far more than $ 100.00 to Heroes' Cafe!