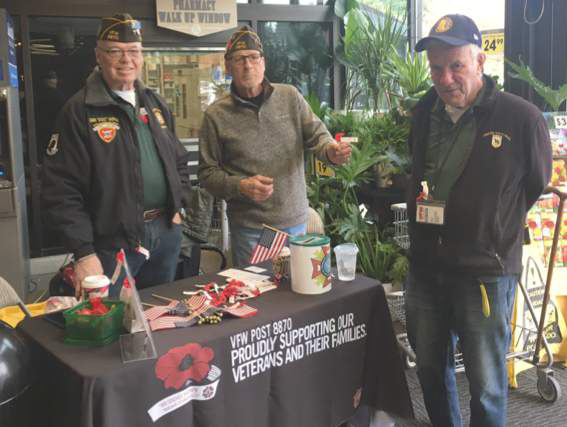 With Veterans Day falling on a Saturday this year, we found it necessary to split our poppy drive efforts between two weekends, to allow us fit everyting into our schedule.
We began on Saturday, November 4, operating at just two locations, QFC Westgate in Edmonds and Town & Country Market in Mill Creek. We collected over $ 4,700, roughly equally divided between the two locations. On the weekend of Veterans Day, we will be at three stores on Friday, Nov 10, adding the QFC Speedway location to the mix. It looks to be another successful outing that will result in keeping our Veterans Relief programs well funded.
In the photo above, 8870 members Dan Doyle, Charlie Gaul and Richard Balogna are shown manning one of the two doors we worked at QFC Edmonds.