The Unknowns:
The Untold Story of America's Unknown Soldier and WW I's Most Decorated Heroes Who Brought Him Home
By Patrick K. O'Donnell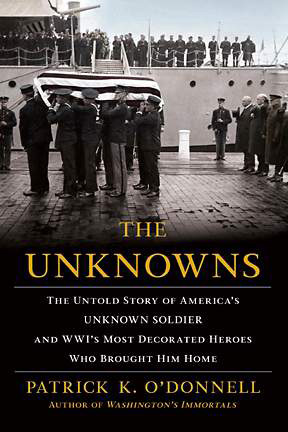 One of the most visited tourist sites for anyone visiting Washington, D.C., surely, must be Arlington National Cemetery and the Tomb of the Unknown Soldier. Anyone who has viewed the precision of the soldiers from the 3rd Infantry Regiment, "The Old Guard", who guard the Tomb 24 hours a day, 365 days a year, is humbled by the experience. I have visited the Tomb and observed the ritual of the Changing of the Guard on several occasions but knew nothing regarding the establishment of this National Memorial.
This exhaustively researched book presents readers with a history of the fascinating series of events that led to the creation of the Tomb of the Unknown Soldier, the manner in which one soldier was chosen to "select" the Unknown Soldier, and the heroics of the eight men who were selected to be Bearers and bring their comrade home.
The author provides a brief background regarding America's entry into the Great War and General John J. Pershing who commanded the American Expeditionary Force (AEF). While the author does question some of Pershing's decision-making in the conduct of the war, the book's focus and purpose is directed toward the nine men who figured so prominently in our nation's Unknown Soldier.
The nine men were personally selected by General Pershing, were all enlisted personnel, and highly decorated soldiers and sailors who demonstrated courage and initiative in the Great War. A chapter is devoted to each of these heroes who fought bravely and suffered grievous wounds in the iconic battles of Belleau Wood, Saint-Mihiel, and the brutal, and, perhaps unnecessary, Meuse-Argonne Offensive. The author provides untold private accounts of these heroic individual's actions during combat. Most of those men earned the Medal of Honor.
The author describes, in great detail, the military ceremonies that were planned and conducted as the Bearers brought the Unknown Soldier home from the battlefields of France, to his ocean crossing on the USS Olympia, lying in repose in the Capitol Rotunda, and to his final resting place at Arlington National Cemetery. This is a must read to better understand and appreciate one of our nation's greatest memorials, the Tomb of the Unknown Soldier.
This review was written by Fred Apgar