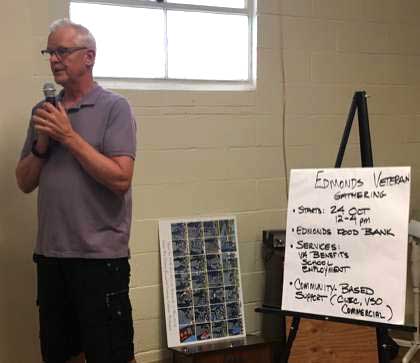 As you all know Gary Walderman has overseen the operation of Heros Cafe, the monthly breakfast gathering in Lynnwood. At the August meeting, Walderman came to present details of a new Edmonds Veterans Gathering to be held at the Edmonds Food Bank, located at the Edmonds United Methodist Church, 828 Caspers Street
The first of these monthly events will take place on October 24 from noon to 4 PM.
Veterans services information will be available on the subjects of VA benefits, including education and employment opportunities.
This program is meant to offer community based support available through Civic sources, Veterans Service Officers and commercial sources and offer a fellowship opportunity to local veterans.