Post 8870 sponsored the July Hero's Cafe , a monthly gathering for all veterans to focus on fostering positive outreach, interaction, and welfare within our community. This month's event at the Verdant Wellness Center in Lynnwood, was well attended by approximately 85 veterans, friends and family.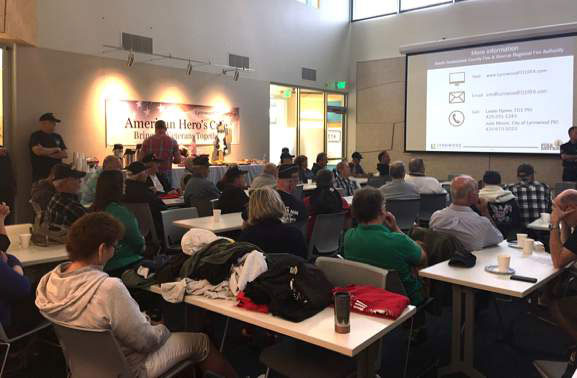 The sponsoring Veterans organization each month is responsible to provide funds for food and other expenses and also personnel to set up and tear down for the event.
Post 8870 members Mike Denton, Les Abel, Carl Kurfess and Phil Sacks were present to execute our responsibilities, arriving early in the morning between 0830 and 0900 and staying to help host the event until around 1430 when clean up was complete.
Lynnwood Mayor Nicola Smith was present with a few remarks and to introduce the featured program consisting of a presentation from Snohomish County Fire District 1 on the proposed merger of the Lynnwood Fire Department with the Fire District.
Hero's Cafe is sponsored by the City of Lynnwood, Work Source, VFW, American Legion, Vietnam Veterans of America, Disabled American Veterans, Gold Star Mothers, Catholic Charities USA and the EdCC Veterans Resource Center.