On Friday and Saturday of Memorial Day Weekend, veterans of both VFW Post 8870 and American Legion Post 66 handed out "Buddy Poppies" at three store locations; QFC in Edmonds, QFC Mukilteo and Town & Country Market in Mill Creek.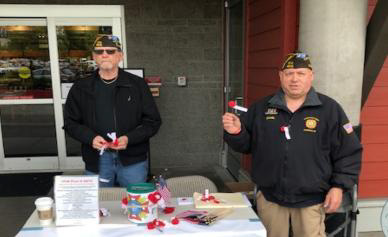 In spite of the help of some family members and others, we were unable to muster sufficient personnel to staff the fourth and fifth stores we have worked in the past. In spite of this reduction in manpower and reaching fewer stores, we had an excellent weekend of fund raising, bringing in a total of $14,091.16 to bolster our Relief Fund. While this number is considerably short of our record highs of the past, (over $18,000 for Veterans Day 2019) it is still satisfying to be able to get back out there after these past two years of Covid restrictions.
The public was most welcoming, offering profuse thanks for our service and recognizing the sacrifice of our comrades who never made it home.
For those of you who were unable to help at the stores: An anonymous donor has offered to match up to $1,500.00 in Relief Fund donations from members in lieu of such participation. If you would like to participate in that offer, which we hope would raise an additional $3,000.00, send your check to the Post PO Box, or go on the donation page of the website. Be sure to note on your check, or online donation, that it is for the Relief Fund matching program. The below is a chart of the weekend results by store. 
Memorial Day Poppy Revenues by Location