The Eleven Days of Christmas: America's Last Vietnam Battle By Marshall Michel III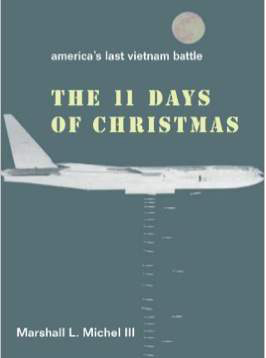 To many, it was referred to as the Christmas Bombings. Officially, the operation was called Linebacker II.
By December 1972, the Paris Peace Talks had fallen apart, and to most Americans, the war had already been
lost. Despite the opposition of the Strategic Air Command (SAC) and Congress, President Nixon ordered the massive bombing of target complexes in and around Hanoi and Haiphong. The air battle would mark the first time that SAC's giant B-52 long-range bombers would bomb targets so far to the north.
In the previous eight years, B-52's had routinely flown "Arc Light" missions in relatively low threat environments to interdict the Ho Chi Minh Trail complexes. During Linebacker II, our B-52 force proved shockingly vulnerable to the Soviet built Guideline surface-to-air missiles (SAM). Also revealed in the book is an objective discussion of SAC's planning errors that resulted in the significant loss of American crewmen and B-52's.
After Day 2 of the 11 day bombing campaign and despite the threat of court-martial, many pilots ignored some of the non-sensical planning orders to improve mission success and survivability. Nevertheless, Linebacker II resulted in staggering losses.
The North Vietnamese returned to the peace talks and an agreement to end the war was finally signed. (ed. note: An agreement largely ignored subsequently by North Vietnam.) The air battle swung back and forth between what appeared to be certain American victory, to what appeared to be a North Vietnamese victory and finally, to an ambiguous ending.
The author is a retired Air Force pilot who served multiple tours in Vietnam, flying F-4's. The book has been meticulously researched, and its riveting account of Linebacker II holds the reader's attention.
"From the Bookshelf" will be a recurring series of book reviews that will appear in the
VFW Post #8870 newsletter from time to time. This review was written by Fred Apgar.