by Mike Denton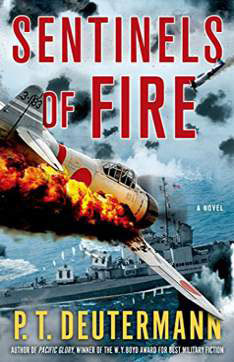 P.T. Deutermann's novel Sentinels of Fire tells the tale of a lone destroyer, part of the Allied invasion forces attacking the island of Okinawa and the Japanese home islands.
By the spring of 1945, the once mighty Japanese fleet has been virtually destroyed, leaving Japan open to invasion. The Japanese react by dispatching hundreds of suicide bombers against the Allied fleet surrounding Okinawa. By mid-May, the Allied fleet is losing a major ship a day to murderous swarms of kamikazes streaming out of Formosa and southern Japan. The radar picket line is the first defense and early warning against these hellish formations, but the Japanese direct special attention to these lone destroyers stationed north and west of Okinawa.
Author's Note: 
"My father was a division commander (Commodore) of destroyers at Okinawa in 1945. I wish I could say that he told me all about it; he did not. He wouldn't speak of it. It was simply that bad. 
Navy KIA exceeded those of the ground troops in the campaign. Considering the meat-grinder nature of the Okinawa land battle, with hundreds of thousand engaged, that is truly significant. Navy losses were driven by the ferocious Japanese kamikaze assault. I've long believed that the Okinawa campaign played a significant part in the decision to drop the atomic bombs on Japan. The Japanese knew they could not hold Okinawa, but were determined to make the Americans bleed for it and perhaps think twice about invading the home islands. I think they succeeded in that." 
P.T. Deutermann spent twenty-six years in military and government service, including command of the guided missile destroyer USS Tattnall for a three-year tour of duty, which included combat operations off Lebanon.