The Edmonds Veterans Plaza Committee has provided the following report to update us as we approach completion of the project.
A drinking Fountain is being installed and was to have been completed the week of October 1.
The City Council unanimously approved an additional $41K to complete the project. (These funds are directed primarily to pay for engineering changes instituted by the city.) The goal is to complete the work and have the EVP fully operational (including the water feature, lights etc.) by Veterans Day, 11 Nov.
An inaugural Veterans Day ceremony is in the planning stages. If you have any ideas or suggestions for the function …please share those with Jim Traner, Ron Clyborne or your Commander. We have a $3000 reserve fund to pay for upcoming functions and/or other EVP needs that may arise for 2017/2018.
All pavers are fully subscribed and have been installed. An additional 75 pavers in increments of 25 will be made available sometime in 2018 upon City approval. All new paver subscribers need to provide their names to Jim Traner and the ongoing subscription donations will remain at $500 per paver. We also have three stone benches available for engraving at $5000 each with which to remember and honor a Veteran(s) . If you know of anyone who may be interested, please let Traner or Clyborne know.
With a recent $8,000 grant from the Tulalip Tribe, available EVP funds stand at $19K. We needed $20k for the kiosk and the additional $1K required is covered with a verbal pledge. we will, therefore, begin the kiosk acquisition and planning, with the goal of having it installed and fully operational by the end of the 1st quarter of 2018.
We will maintain a "leadership team" to continue to manage the Plaza to its completion and to handle ongoing improvements and future functions. Post 8870 will continue to accept donations for the EVP for the foreseeable future, in order to pay for improvements and for maintenance requirements.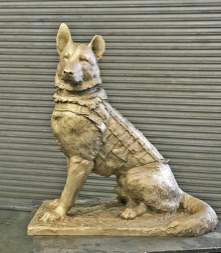 At right is photo of a K9 Soldier sculpture which has been donated and is to be installed in the EVP in October on a date and at a time to be announced. This statue was funded and designed by the "Off Leash dog Group", who raised the funds to pay for the it outside the primary Plaza funding effort controlled by VFW Post 8870, to recognize the role played in our wars by the K9 teams. The dog sculpture is life size and will be installed on the existing "paver slab" on the east side of the south paver path, perpendicular to the two seating cubes.
The K-9 Memorial is to be dedicated in a brief ceremony on Saturday, October 21 at 1:00 PM at the Plaza. 
The Edmonds Veterans Plaza has already made an incredibly positive impact on our Veterans and their families and friends as well as being a very meaningful addition to our entire community.