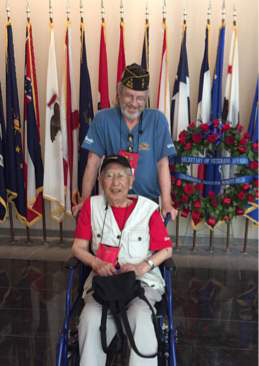 Brad Andrews, one of our newer members and a Vietnam Veteran, volunteered to accompany 93 year old WWII veteran Frank Muramatsu as his "Guardian" on the spring Honor flight. Brad paid his expenses out of his own pocket in order to perform this service.
Muramatsu was one of those young Japanese American warriors who stepped up to serve their country despite the treatment their families received during that time. Frank served in the Pacific, unlike so many of his comrades of Japanese descent.
In addition to his personal services, Brad also donated 4,000 Alaska air miles to Puget Sound Fisher House through the "Hero Miles" program.