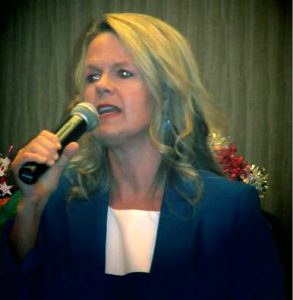 At the recent Department of Washington VFW convention that was held in Pasco, a local teacher was recognized as the Elementary Teacher of the Year for the state of Washington. The teacher recognition program is sponsored by the National VFW through its Citizenship Education Teacher Awards Program, and it recognizes teachers for their ongoing efforts to promote American history, traditions institutions, teach and reinforce citizenship education topics, and promote democratic values and beliefs.
Nancy Thompson, a music teacher at Serene Lake Elementary School in the Mukilteo School District had been nominated for this recognition by Edmonds VFW Post #8870. She went on to earn Elementary Teacher of the Year honors by VFW District 1, and competed against other elementary teachers from across the state for state honors. Nancy's nomination materials have been forwarded to National VFW, where she is under consideration for national recognition.
Nancy is described by her Principal, Dr. Karen Reid, as an "outstanding music educator who has consistently demonstrated a sincere commitment to teaching children about American history and instilling in them the traditions that makes our nation the emblem of freedom". Thanks to Nancy's efforts, each month the school celebrates specific historical events and those people who played significant roles in our nation's history. The Veteran's Day program she plans and coordinates each year, honors veterans and features performances by the school's band, chorus, and orchestra. Most of the music and poetry in the productions, are original pieces written by Nancy. She cares deeply for the veteran and military communities. Nancy is a graduate of Montana State University and has taught in the Mukilteo School District for 14 years. She and her husband, Jeff, and their 9 year old daughter reside in Bothell.