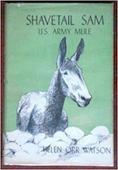 by Carl Kurfess 
Shavetail
Inexperienced person.
Mules have irksome and painful qualities, so those that ran the mule-trains of the mid-19th century American army would shave off the tail of any new mule as a warning to others that its behavior might be unpredictable. It was not long before the troops were using the term for any newcomer. By the time of the Spanish-American war of 1898, "Shavetail" had become specific to describe a newly commissioned lieutenant.
Works cited: Donald, G., Wiest, A., & Shepherd, W. (2013). Sticklers, Sideburns and Bikinis: The military origins of everyday words and phrases. Bloomsbury Publishing.