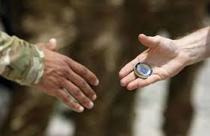 A challenge coin is a small coin or medallion (usually military), bearing an organization's insignia or emblem and carried by the organization's members. Traditionally, they are given to prove membership when challenged and to enhance morale. In addition, they are also collected by service members. In practice, challenge coins are normally presented by unit commanders in recognition of special achievement by a member of the unit. These are typically called a "Commander's coin for excellence". They are also exchanged in recognition of visits to an organization. 
According to the most common story, challenge coins originated during World War I. Before the entry of the United States into the war in 1917 American volunteers from all parts of the country filled the newly formed flying squadrons. One such pilot was shot down and found by the French. Not recognizing the young pilot's American accent, the French thought him to be a saboteur and made ready to execute him. He had no identification to prove his allegiance, but he did have his leather pouch containing the medallion. He showed the medallion to his would-be executioners and one of his French captors recognized the squadron insignia on the medallion. They delayed his execution long enough for him to confirm his identity. Instead of shooting him they gave him a bottle of wine.
Back at his squadron, it became tradition to ensure that all members carried their medallion or coin at all times. The challenge coin tradition has spread to other military units, in all branches of service, and even to non-military organizations as well as the United States Congress, which produces challenge coins for members of Congress to give to constituents. Today, some challenge coins are given to members upon joining an organization, as an award to improve morale, and sold to commemorate special occasions or as fundraisers. Commanders of units have a special fund with which they can order "Commanders coins".