by Carl Kurfess
War Animals — The Unsung Heroes of World War II
By Robin L. Hutton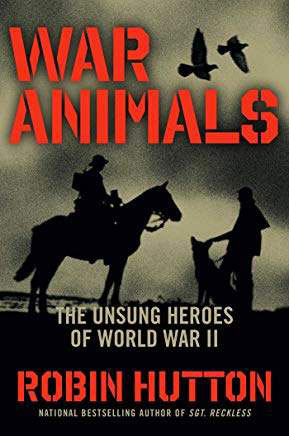 "Today, war is a high-tech affair. The modern soldier relies on advanced weapons and communications technology as his essential support. But in World War II, soldiers relied on an entirely different kind of support–a kind of support soldiers have used since ancient times. Animals. Dogs, horses, and pigeons became World War II soldiers' best friends in battle, serving to carry weapons, wounded men, and messages through artillery fire. In War Animals, bestselling author Robin Hutton brings the animal heroes of World War II to vivid life with the heroic true tales of: Famed pigeon G.I. Joe, who saved an Italian village and British troops by flying 20 miles in 20 minutes to carry a message to Allied forces; Chips, a German Shepherd trained as a sentry who attacked an Italian machine gun team, sustaining powder burns and saving his handler's life; Bing, a paradog who jumped out of a plane on D-Day, landed in a tree, and once on the ground helped his handlers locate the enemy. A heartwarming and sometimes even hilarious history of bonafide heroes of feather and fur, War Animals is a World War II story you've never read before."– Provided by publisher.
I found this book quite interesting, especially the War Dog part. The US Army used dogs as sentry, scout dogs, sled and pack, mine detection, and messenger dogs. The US Coast Guard used them mainly for sentry duties, and the US Marines used them as scout dogs. Pigeons were used as message carriers, horses and mules were used it the Italian theater, carrying supplies up hills and mountains that vehicles could not traverse.
The book also covers the British use of animals, especially rescue dogs who located trapped civilians in bombed out buildings from German bombing attacks. This book introduced me to the British People's Dispensary for Sick Animals (PDSA) Dicken Medal which was awarded to some of these outstanding animals.