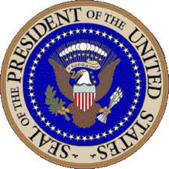 By Carl Kurfess
A timely reminder following a period of discussion of the powers of the Presidency reminds us that the President of the United States, is also the Commander in Chief of all the Armed Forces. Article II, Section 2, Clause I of the Constitution, states: "…the President of the United States is commander in chief of the United States Armed Forces". The President possess the ultimate authority, but no "rank", maintaining civilian control of the military.
Starting with George Washington in 1789, a number of Presidents have had military experience, but this is not a requirement. As of 2016, no member of the U.S. Marine Corps or U.S. Coast Guard has yet been elected President. The most frequent military experience is Army/Army Reserve with 15 presidents, followed by State Militias at 9, Navy/Naval Reserve at 6 and the Continental Army with 2 presidents serving. Eight presidents served during World War II, while seven served in the military during the American Civil War. 16 presidents have served in the rank of 0-6 or higher. Three, George Washington, Ulysses Grant, and Dwight Eisenhower, have served as Generals of the Army.
The Goldwater-Nichols Act in 1986 codified the default operational chain of command, running from the President to the Secretary of Defense, and from the Secretary of Defense to the combatant commander. While the Chairman of the Joint Chiefs of Staff outranks all other military officers, he does not have operational command authority over the Armed Forces. However, the chairman does assist the President and the Secretary of Defense in the exercise of their command functions.