By Fred M. Apgar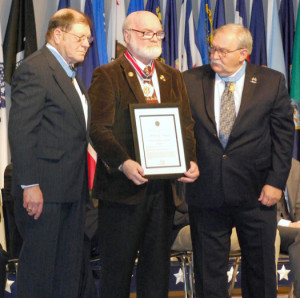 At a recent ceremony held at Arlington National Cemetery, Michael Reagan, an active and loyal member of our Post, was awarded the Citizens Before Self Honor Medal. Referred to as the Civilian Medal of Honor, this prestigious medal was awarded to Michael by the Medal of Honor Foundation, an organization comprised of recipients of our nation's highest military medal, the Congressional Medal of Honor (MOH). This recognition is one of the highest and most prestigious awards that is bestowed on private citizens.
The Medal of Honor Foundation was founded in 1999 for the purpose of perpetuating the legacy of the MOH through outreach and educational programs. The program to honor private citizens was created to recognize those ordinary Americans from across the country who perform extraordinary acts of courage or through a continued commitment to service by placing the needs of others first.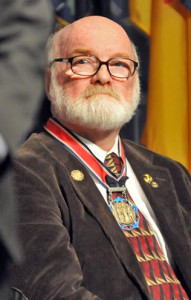 Michael was selected as a 2015 honoree "for his service in founding the non-profit Fallen Heroes Project, which provides hand-drawn portraits to the families of all servicemen and women who have been killed in Iraq and Afghanistan".
Michael is a Seattle native, and following his high school graduation, he enlisted in the U.S. Marine Corps. Following a combat tour of duty in Vietnam, he attended art school. He worked as a graphic arts designer for the Seattle Public Schools, which led to a position at the University of Washington, an affiliation that remains today. Michael is a portrait artist, and during his 40 year career, he has drawn over 10,000 portraits of celebrities, professional athletes, U.S. Presidents, as well as other heads of state. Early in his career, Michael made the decision to use his skill and reputation as a much sought after portrait artist to perform charitable work for a wide range of benevolent organizations such as Boys and Girls Clubs, Children's Hospital, the Humane Society, and the Fred Hutchinson Cancer Research Center. To date, his signed celebrity portraits have raised over $10 million for these deserving organizations.